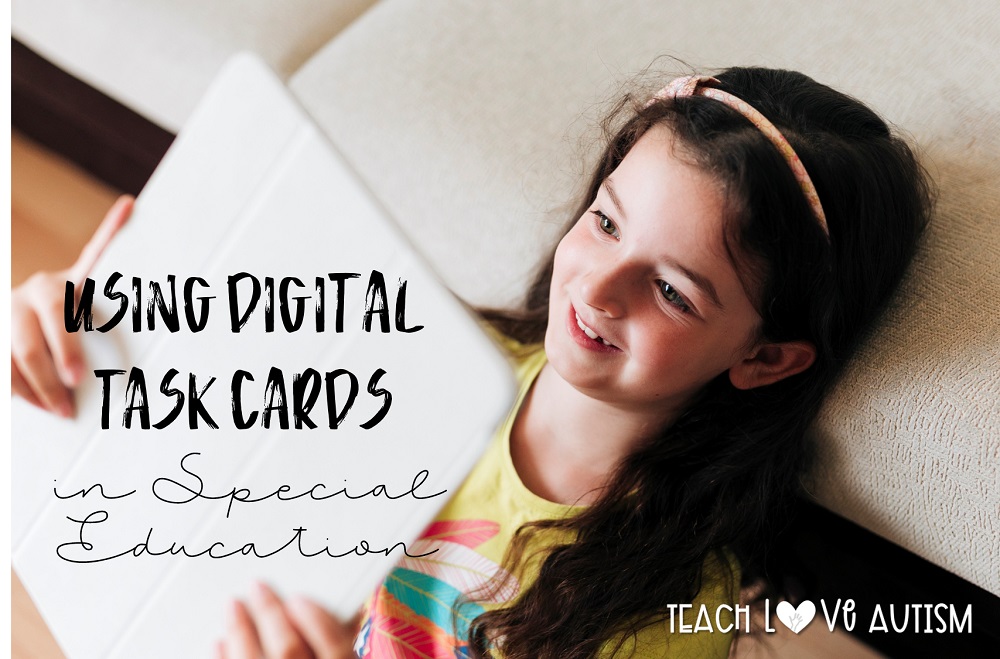 A new love for digital task cards in special education has emerged lately. I am all for this because I love using technology in the classroom. Teachers are moving towards digital resources to accommodate their students' needs whether it's at home or in the classroom.
To accomodate those needs, I've put together two bundles (also available individually) of digital task cards that are perfect for in the classroom or distance learning. These cards are especially perfect for students with disabilities who might be struggling to learn a concept through paper and pencil materials.
What are Digital Task Cards?
Digital Task Cards are interactive, self-checking PDFs that can be used on a device like computers, smart boards, tablets, iPads and smartphones. I have both errorless versions and a basic set with a field of three answers to choose from.
Each card will ask the student to do a task, such as "Select the picture that starts with /v/". The students then click on the picture that applies. When they get the correct answer, they will be taken to a slide that says, "You did it!" Then they can click the arrow to move to the next task card. If they get it incorrect, they will get a slide that says "Try Again!" which then takes the student back to the initial task card to try and find the answer again. If they are errorless they will only be prompted to move forward.
Digital Task Cards and Errorless Learning
Errorless learning means that they cannot get an answer wrong. Errorless activities are great for introducing a concept to students because it sets students up for success. It also provides an opportunity for students to see immediate positive feedback.
Errorless activities work well for students who typically make a lot of mistakes and thus get easily defeated. Errorless activities are awesome for students who are starting to be independent while doing a task. Students won't feel defeated with errorless task cards because they can't make errors.
What's in the Bundles?
In the Basics Bundle, you will get task cards for the following concepts:
Uppercase Alphabet
Lowercase Alphabet
Beginning Sounds (picture to letter match)
Beginning Sounds (letter to picture match)
Colors
Shapes
Number Identification
Upper and Lowercase Letter Match
Counting 0-10
Counting 11-20
All the task cards are NO PREP (however, you could print them if you wanted!) and they are suited for younger elementary or special needs students. The task cards have visuals to make it more engaging for students.
In the Errorless Bundle, you will get task cards for the following concepts:
Beginning Sounds
Phonics
Shapes
Colors
Number Identification
Number Words
Counting 0-10
Uppercase Alphabet
Lowercase Alphabet
Community Signs
U.S. Coins Identification
When you purchase either bundles, you will also get a link to FREE access to these cards through Boom Learning. The Boom versions included audio for the prompts on the card which is great for increasing student independence.
If you do not use Boom Learning in your teaching, these cards work great on their own too. I wrote a blog post more about Boom Learning here. You can upload the activities to Google Classroom, SeeSaw or another platform of your choosing.
Getting Students access to Digital Task Cards!
Digital Task Cards can be sent to students through your platform of choice. I recently wrote a blog post about the way I am getting digital materials to my students using a website called Symbaloo. If you would like to read about that CLICK HERE!
And when we are able to go back into the classroom, they can be used in a variety of ways including independent work, paraprofessional materials, and homework! There are many ways to implement these into the classroom.
Have you used digital task cards before? What would you like to see turned into digital task cards in the future?