I spend hours looking on the internet for reading comprehension materials for my students. It's a large reason that I to started creating my own resources. I wanted to make sure that I could meet the needs of my students.
Most importantly, I want all my students to be able to participate in classroom activities and I want to support their needs. I create resources that are differentiated for my learners. And this Dinosaur Comprehension Freebie is one of those resources.
This is a 60+ page resource that you can download for free! Dinosaurs is an engaging topic for so many kids, especially younger kids. Children are fascinated with these prehistoric creatures, so this resource is perfect for them.
Suggested Lesson Plans to Help!
Similar to my Pets Reading Comprehension Bundle, this resource is designed to be differentiated to four reading levels. The text is based off of a first grade lexile level. There come with suggested plans to use in your classroom too!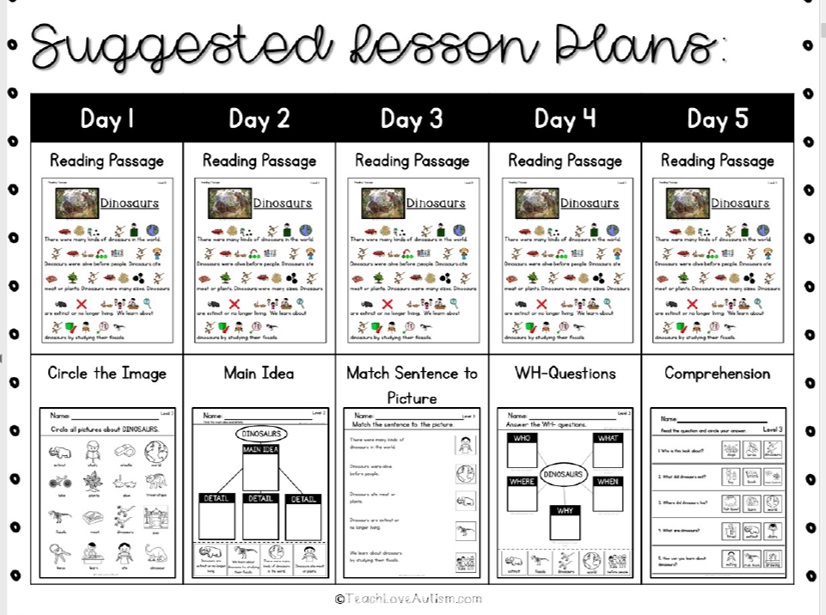 Better yet, this resource is NO PREP! You can print and use it in your classroom right away.
Reading Comprehension and Differentiation
Like I said, there are four reading levels and let's look inside!
Level One is five pages long with one sentence on each page. There are simple symbols above tricky words to help students read.
In Level Two there is slightly longer sentences and simple symbols.
Level Three has longer sentences and symbols.
Level Four does not have symbols above tricky words.
There are also four levels of worksheets to accompany the readings including an errorless level for students that may need that kind of support. You will find, "Circle the Image" worksheets, "Main Idea" webs, "Match Sentence to Picture" activities, "WH-Questions" page, and a comprehension test. There are additional comprehension pages to use in your classroom or send home for homework.
Additionally, I have included a communication board for students that need assistive technology and visual support. This board includes all the vocabulary words that they might need to effectively communicate their ideas. Which you can use with students just to practice the vocabulary. I also like to cut out the pictures, place on index cards and make into a fluency station! Read about my fluency station here!
How Can You Use this Resource?
There are many ways that I can suggest to use this resource here are just a few:
guided reading or small group instruction
one-on-one paraprofessional sessions
whole class instruction
include in your classroom library
distance learning materials for remote learning at home
homework for completion with families after instruction
Finally, you can't really go wrong with FREE! So I'd encourage you to check it out. And if you love this resource, don't forget to check out my Pets Reading Comprehension Bundle.