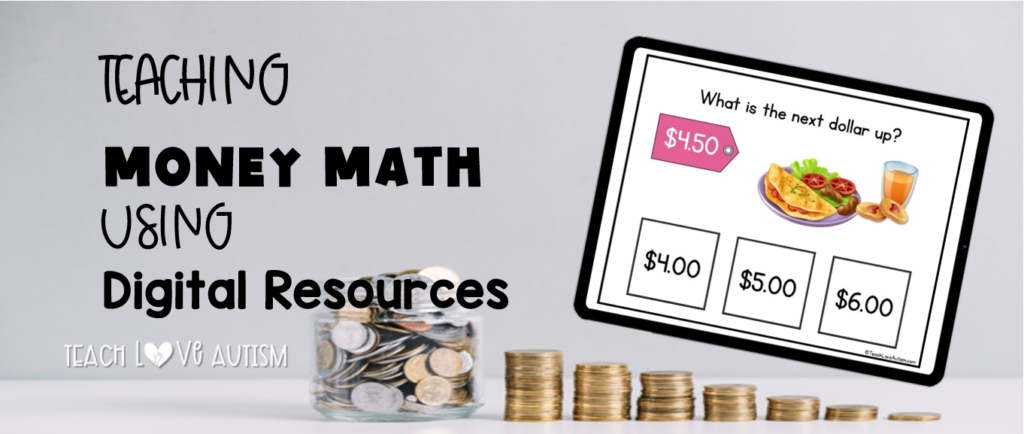 Money math is one of my very favorite skills to teach – it's fun, interactive, and so incredibly functional. I have talked about using printable resources for teaching money math here. The dollar-up method has been so beneficial for my students. It's such a helpful and concrete way to help students effectively practice and actually pay for items.
Creating interactive, digital resources that incorporate functional skills is so important. I need them to help my students master and maintain these important money math skills. I know so many teachers around the globe need these resources, too.
Look Inside this Money Math Product
Are you looking to help your students continue to build these skills? You're in luck. This resource bundle I have created includes interactive PDFs, Boom cards AND Google slides. So, no matter what digital platform is your fave, I have you covered.

Each set includes a new restaurant theme to keep your students engaged and interested, from ordering sushi to desserts to Mexican food! There's so many fun food themes to stay motivated. Each set has clipart which is realistic and engaging for students to keep their interest.
With these cards students are asked to look at the item for sale. Then they must look at the price tag and determine what the next dollar up would be that they would pay with. I also love the idea of using these digital task cards with physical money (either real or play) and having the student calculate the change back!
If you think that using a highly motivating item like food could be helpful in the classroom then you are definitely going to want to check out this product in both the bundle and the individual digital task card sets.
Also, if the restaurant cards aren't your thing you can also check out these Grocery Store Next Dollar up digital task cards with the same format!