I am thinking about what I need to do to start my school year out strong. Teachers are making lists of lists with lists inside of them. Doing all this had me thinking about my first year of teaching and the items and things that I didn't have to begin with and I often think to myself, "How did I survive without this?" I totally survived without all the things and you can too! These are SPED classroom items that teachers are so thankful you have.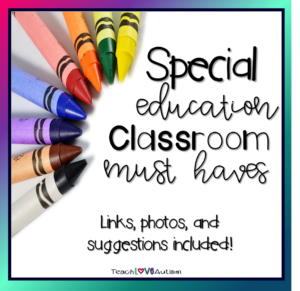 Do not think that if you don't have these you have to, just do what works for you! These are merely supposed to spark your inspiration and hear what others in your field may have or use! ALSO, I could never have everything listed here so know this is just a start!
Within this list I will also link to places you can get them from by making that specific item to have a hyperlink that you can click on. Some of these are strictly just websites I like and others are affiliate links that will take you to the item and I will make a small commission if you purchase them! No pressure at all just wanted you to have the resources! If you'd like to just go to my Amazon influencer store you can do that here: Teach Love Autism.

10. Technology & Accessories:
-iPads
-Chrome Books
-Headphones
-Styluses
-Protective Cases for iPads
-Adapted Keyboards for computers

9. Furniture:
-Wobble Stools
-Bean Bag Chairs
-Horseshoe Table
-Classroom Rug
–Bookshelves
–Sand and Water Table
-Light Covers

8. Storage:
–Rolling Carts
-Book Bins
–Iris Photo Keeper
–Supply Caddies
-Teacher Toolbox
-Baskets

7. Basic Supplies:
-File Folders
-Scissors
-Tape
-Pencils
-Notebooks
-Binders
-Clipboards
-Markers
-Hole Punch

6. Sensory Materials:
-Bean Bags
–Fitness Balls
-Cozy Canoe
–Fidgets
-Noise Cancelling Headphones
-Trampoline
–Chewies
-Body Sock
-WaterBeads
5. Schedules/ Routines/ Visuals:
-Pocket Charts
-Cardstock
-Symbol Creation Software or subscription-
Smarty Symbols or Symbolstix are my favorites!

4. Curriculum & Data:
-Laminator
-Lamination
–Velcro
-Binding Coils
-Binding Machine- I suggest a TruBind
-Printer
-Astrobrights
-Spring-loaded Scissors

2. Paraprofessionals:
This is just for you all the understand just HOW important the support that you have in your classroom is! Please invest the time into your staff to build relationships and help them with teaching your students with the same passion that you do. Show them the love and allow them to learn what you know! A great team can be essential to any school year!

1. Patience, Humor, Love, Music, Coffee or any caffeinated beverage:
And this last one is mostly free! I think that if you want to get through your school year you probably need a combination of all of these!
Also, one of the best suggestions I can give you is if you would like to get materials funded for your classroom it would be through Donor's Choose. Here is a link that gets you to their website and can help you get started in setting up your first project: Getting Started on Donor's Choose