There is something about watching the a student master reading comprehension in special education. When they can understand what they are reading and show that ability it's such an important skill for our everyday lives. Sometimes we need to differentiate to help those students be able to and since we differentiate for some many things, why not reading? Check out this blog post about the FREE set I have available!
If you're looking for a differentiated reading comprehension bundle that will peak student's interests, this might be the bundle you are looking for. This high interest unit all about PETS has five passages on five topics: dogs, cats, fish, birds, and horses.
There are others as well that you can check out in this bundle. I designed these passages to be differentiated to meet four levels of students. Inside are also weekly suggested plans that you can use in your classroom which are great to hand off to a paraprofessional to use in a station!
This is a NO PREP bundle that you can print out and use right away in your classroom. You just need to figure out which level your students would be at. There are 4 levels of reading passages available.
Four Levels of Reading Comprehension in Special Education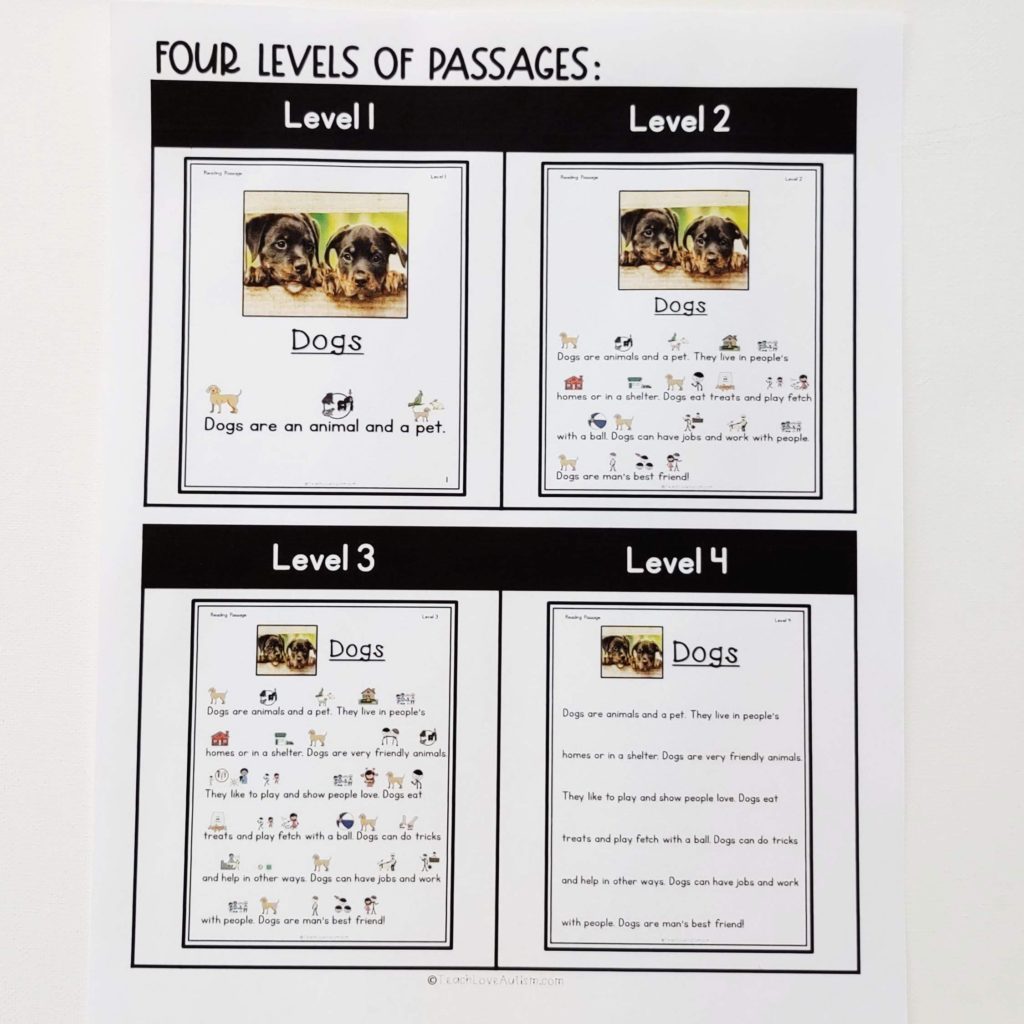 Level One passages are five pages long, with only one sentence per page. There are also simple symbols to help students with tricky words. The level Two books are a little longer, with multiple sentences, and have some more symbol supports for tricky words. Level Three is even longer with symbol supports. Level Four has no symbol support. Each of the passages are geared towards a First Grade reading level.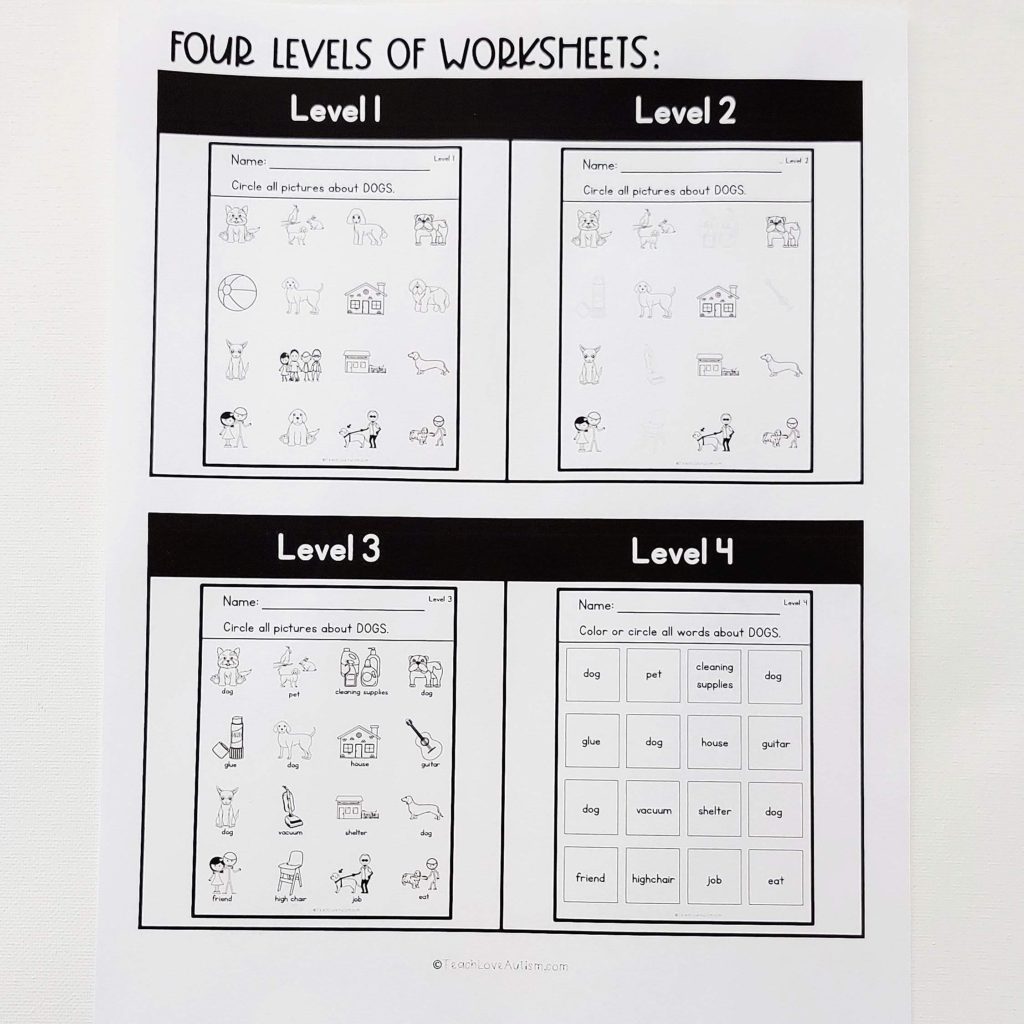 There are worksheets and activities to accompany each passage. These are also differentiated to meet student needs. There are "Circle the Image" worksheets, "Main Idea" webs, "Match Sentence to Picture" activities, "WH-Questions" page, and a Comprehension test. I threw in a few extra comprehension pages as well, in case you need filler activities throughout the week. It's always nice to have some of those on hand.
Extras for Reading Comprehension in Special Education
There are suggested lesson plans that you can use to guide yourself through this unit. My suggestion is to read a passage every day. Make sure to give your students a reading passage at their reading level. Then I also suggest one of the different types of worksheet for each day of the week.
And you know that I also love helping students who need communication assistance. I have included a Communication Board with all the key vocabulary from the passage that a student will need to use.
Organizing it All
I like to bind my passages so I can keep it together with my reading materials. Then I can use them from year to year. And then I just photocopy the worksheets I will use with each student. You might want to use this resource for Guided Reading, during one-on-one student conferences, or for whole class lessons. It's quite versatile. You might want to make an extra copy of these passages to keep in your classroom library as well, so students can read them during independent reading time.
Making it Digital! The TPT Tool!
Another thing you could do, if you are wanting to make this a digital resource, you can watch this video I made about it HERE!
The TPT Digital Tool that is on the Teachers Pay Teachers website has been a game changer when it comes to making PDFs accessible in a digital way!
Whether or not you are returning to the classroom or you need more digital options this product can be sure to help meet those needs! I encourage you to check it out!