My favorite part of my day in my classroom is the morning meeting. I have taught this as a whole group activity and also two times a day with smaller more focused groups based on students' abilities and needs. I love teaching the morning meeting. And if you haven't read it, I did a post a while ago with some of the concepts I teach and you can read that here.
This post was originally written in April of 2017. Some of the pictures and text have been updated to represent my current morning meeting in my classroom this year.
At the secondary level, I try to be mindful that my students are older and need to start focusing that way. Morning meeting does focus on life skills like reading a calendar and looking up the weather but, some teachers feel that it is something that should only be done at the elementary level. I say, as long as it is kept age-appropriate there is nothing wrong with working on these skills. I have 5 tips that have made my morning meeting more functional and purposeful for my students. If you are home with distance learning, you might find this post helpful!
1. Break Up Morning Meeting into Focused Groups
It was one of the best things I have done in previous years. I have had students who are non-verbal and use communication devices who need a lot of functional skills. They are perfect candidates for Core Vocabulary instruction and the other half of my class is very verbal to the point that they can move beyond the functional basics and have more responsibility. So I have 2-morning meetings and split them this way. That means that I have differentiated everything that I do to meet the needs of these two groups. I have been able to really work with these two groups on the specific needs they have and because of this, I have students that have made leaps and bounds in terms of understanding basic and more complex concepts involved with a morning meeting.

2. Use Interactive Materials to Keep Students Engaged
This is super important. I have created binders that have interactive materials for every student in both groups that I teach to follow along with while we do it up on the board in the classroom. These binders do not look the same but, both have similar concepts in them.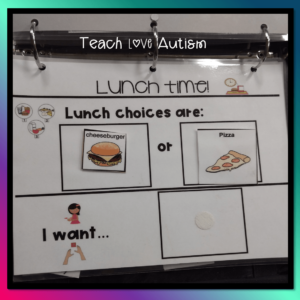 The students all do:
-days of the week
-the date
-weather/ clothes that should be worn
After that, there are different concepts that I change for the students. My non-verbal group works on Core Vocabulary both interactively and hands-on with materials and toys that they find exciting. My verbal students work on answering questions, constructing sentences, and having conversations with one another. But, both groups are interactive materials that keep them accountable for paying attention and engaged in the lesson of what we are doing. It also allows students that are both verbal and non-verbal to answer questions and show what they know.

3. Involve the Students in Lesson
Now we just talked about the interactive materials I use but, I also have part of my morning meeting on my smartboard that the students can also come up to the board and help complete. This comes from News2You. News2You is a curriculum that has many different resources to it but, one thing I like is that it has a piece in it called "Joey's Locker" and within that is "Club Roo" and then there is a picture of a map called "Today's Weather" piece.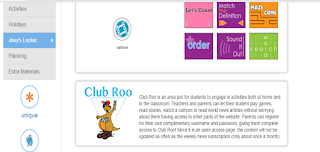 Click on the map to get in!
It works on the date, weather, and clothing that should be worn.
It allows the students to manipulate the slides with an ending page that looks like this:
Then the students can read it to the class to summarize everything we just talked about.

4. Teach Specific Functional Skills
Like I said before I differentiate my two-morning meetings but, I get specific in what I teach here is what I do with each group to fit those students' needs.
Non-Verbal Group Verbal Group
Calendar Calendar
Weather Weather
Clothing (with materials) Clothing
Core Vocabulary Daily Question
Wh- Question Answering
Lunch Menu
With this set up I have actual pictures of clothes for the non-verbal group and they dress "themselves" based on the decisions we made about the weather. So they have a picture of themselves and if we decided they need sunglasses on they take the sunglasses piece and place it on the face over their eyes. We talk about what sunglasses are used for and what part of the body we wear them on. I got those clothing materials here. With my verbal group, we just circle this sheet with a dry erase marker.
5. Utilize Paraprofessionals
This might be the hardest thing I have done in my classroom. I have my paraprofessionals using least to most prompting to guide my students in building independence in these lessons. This took a while to teach my paras to understand this and what it meant for different parts of the morning meeting lesson, but now that they understand it has been great! I use this visual from The Autism Helper a lot!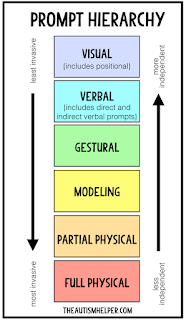 For my verbal group, there isn't much assistance needed at all at this point of the year and that is great but, at the beginning of the year, they needed someone behind them to stay on task, write something down, or help with spelling. With my non-verbal group, they have gone from needing full physical prompts to pick up interactive pieces to gestures or verbal prompts. PROGRESS!! It is great to see!
With all that said, I love Morning Meeting and I think that every classroom could have one, keep it age-appropriate, make it functional and help their students make progress.
If you would like some ideas for materials that you can use to amp up your own morning meeting try these!
Thinking you would like to try a morning meeting freebie first? Check out this file folder freebie I created to use with your classroom in a whole group or individual setting!