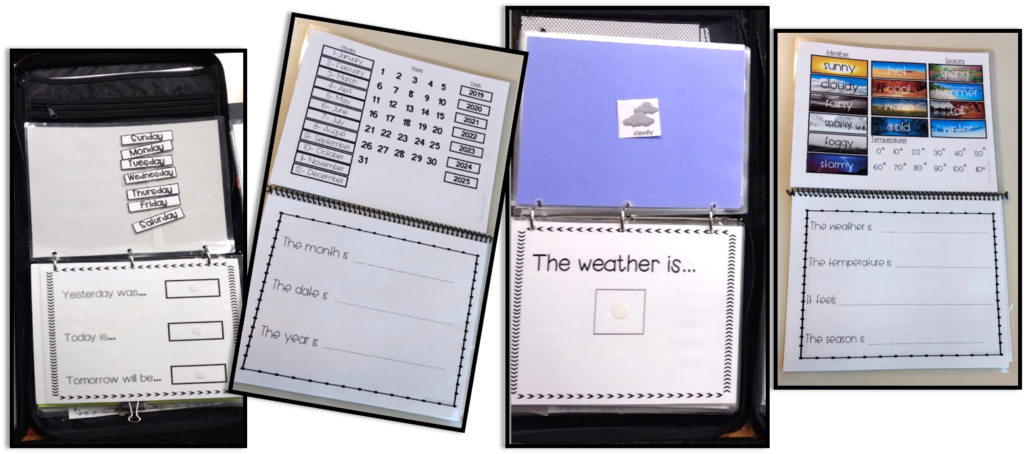 When you start planning the school year, it's pretty common to add in morning meeting, calendar, or circle time as the kick-off for our busy days. However, I know it can be hard to find morning meeting materials for special education that fit all the needs of the learners in your classroom. Similarly, our students need tons of repeated practice of the essential calendar, weather, and social skills concepts that can be covered in this daily routine! If you want to read my other blog post on morning meeting you can find it here.
If you've been around for awhile, you know that I am passionate about and prioritize age-appropriate lessons and materials for our older students. In other words, this is where the Interactive Morning Meeting Binder with Real Photos was born! It is the perfect structure for my middle school students, and I can't wait to show you what's inside!
Therefore, in special education settings, we can be sure of one thing: differentiation is ESSENTIAL. This product includes 4 levels of differentiated materials so the content can reach a wide variety of students learning in your classroom.
What's in each level?
In Level 1, you'll see errorless materials that include only correct answers for students to achieve success each time.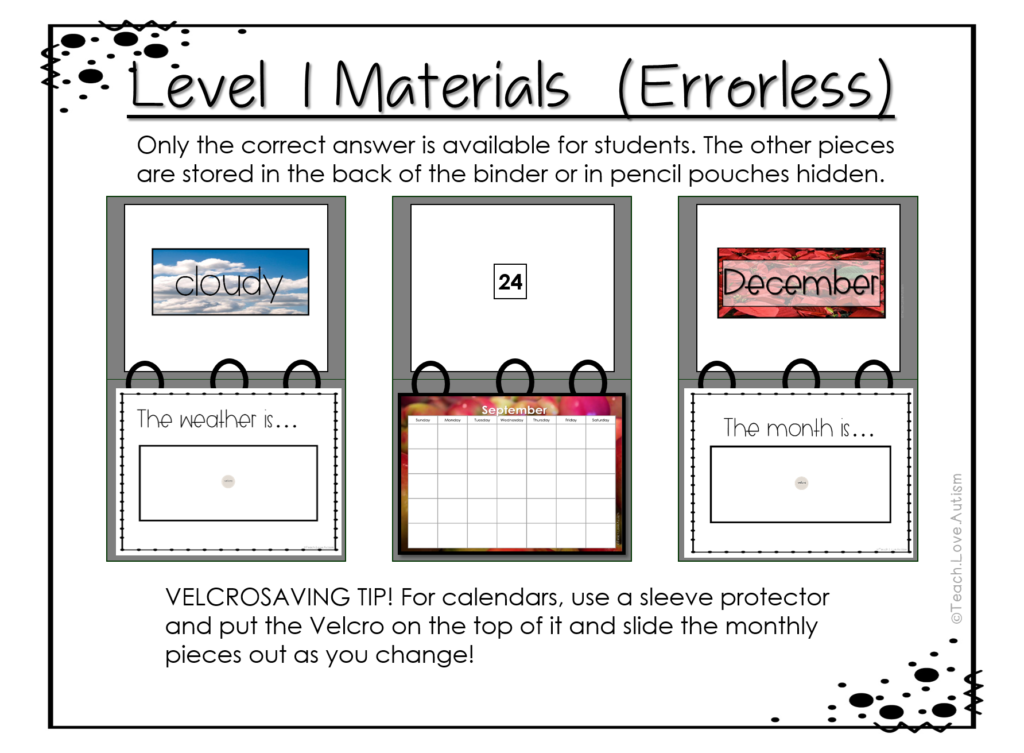 In Level 2, you'll see more, but limited, choices for students to have smaller fields of choices and greater opportunities for success. The teacher or paraprofessional will determine how many choices are appropriate for the students accessing this level.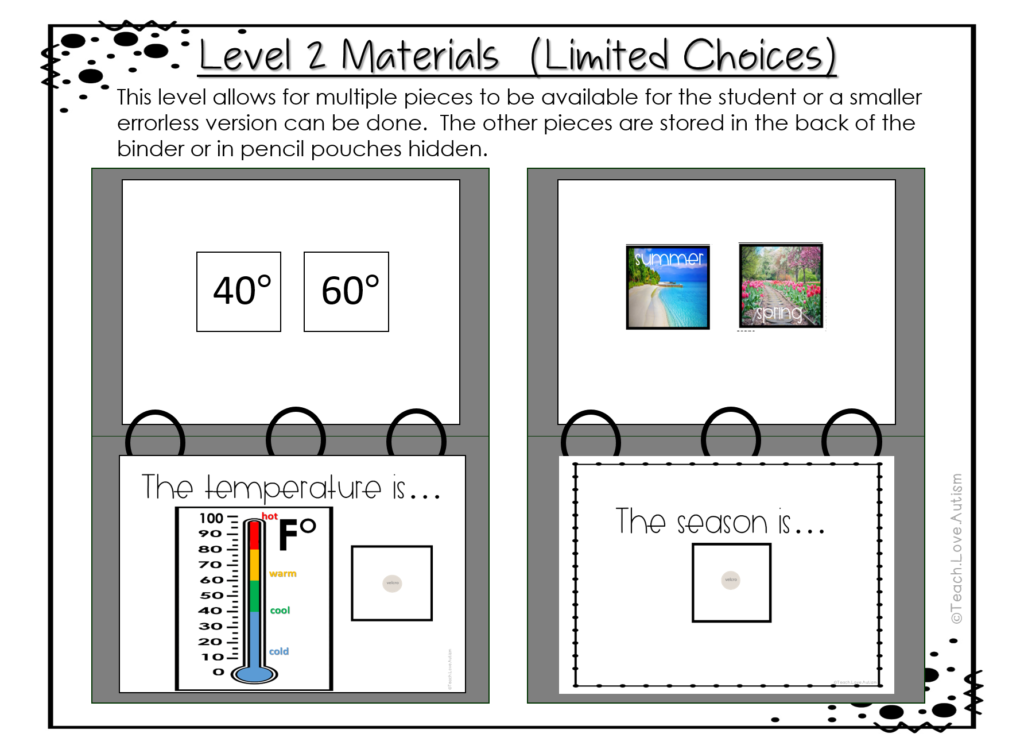 In Level 3, all of the choices are available to the students to answer or fill in the blanks.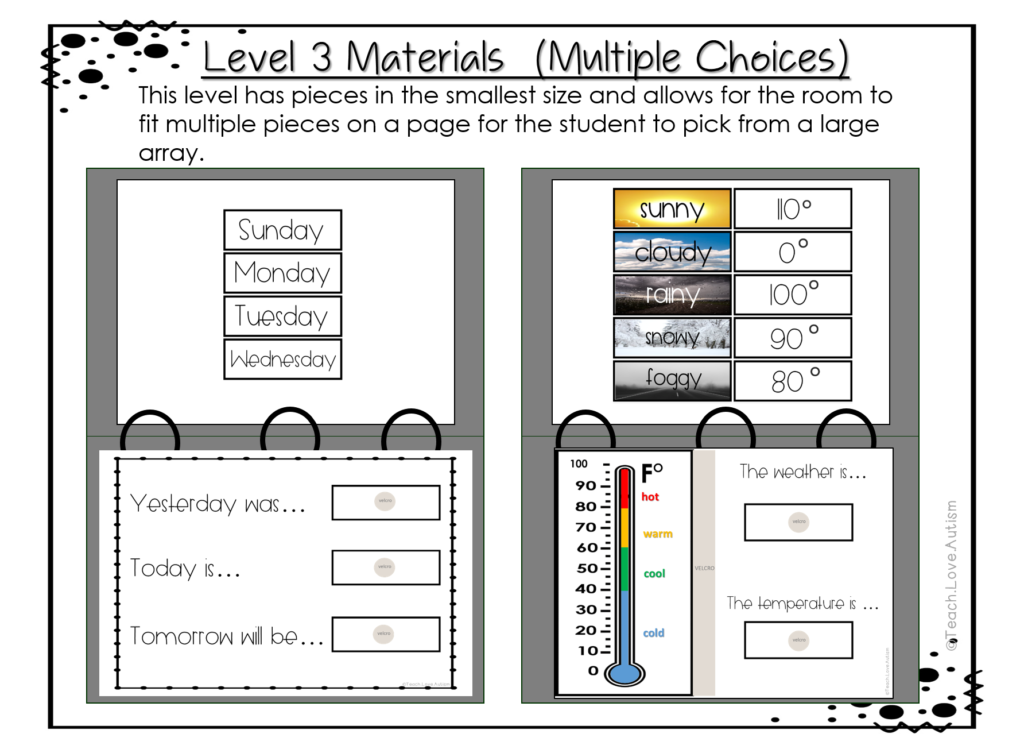 In Level 4, as you can assume, it's the most independent of the levels. Students will write in the answers and have access to a word bank if applicable.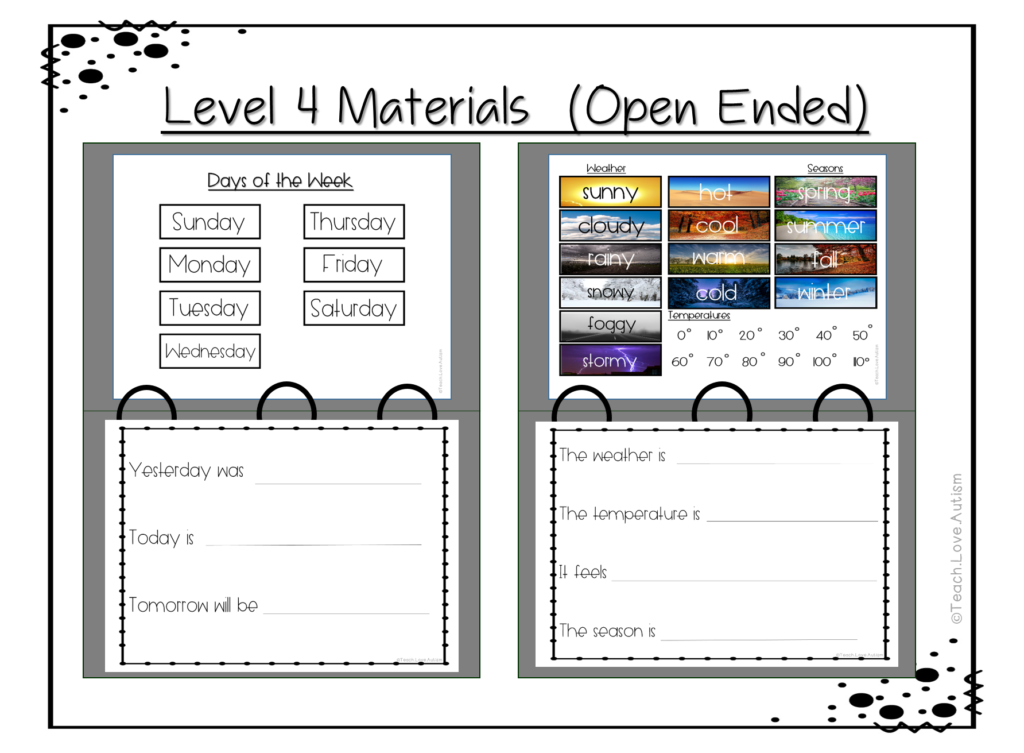 However, did I mention EVERYTHING and EVERY LEVEL includes real photos? Photos keep materials age appropriate, and accessible to our students that are especially concrete thinkers. So, when you are able to provide morning meeting materials for special education (or any classroom for that matter) you can have it work for all grade levels when you use real photos!
What Concepts are covered in Morning Meeting for Special Education?
Moreover, I designed them to cover the most common and most functional calendar and weather concepts. We all need to have more opportunities for students to learn functional skills on a daily basis! The sentence stems included are:
Yesterday was…
Today is…
Tomorrow will be…
The month is…
The date is…
The year is…
Calendars
The weather is…
The temperature is…
It feels…
The season is…
One of the best parts? Assembly is so easy! These pages can easily be bound into individual books for each student, or hole punched and added to individual binders. They are easy to store and easy to keep differentiated this way!
Additionally, I wanted to make it easy for you to find the prep items I used to make my binders and you can go to my Amazon Idea List HERE.
Specifically, here are the prep materials I use in the binders!
In conclusion, this product is a big part of my day in the classroom and I think it should be part of yours too! Check out more including a video preview of this product here:
Looking for a freebie to get you started that's not quite as complicated?? Check out this Morning Meeting File Folder!