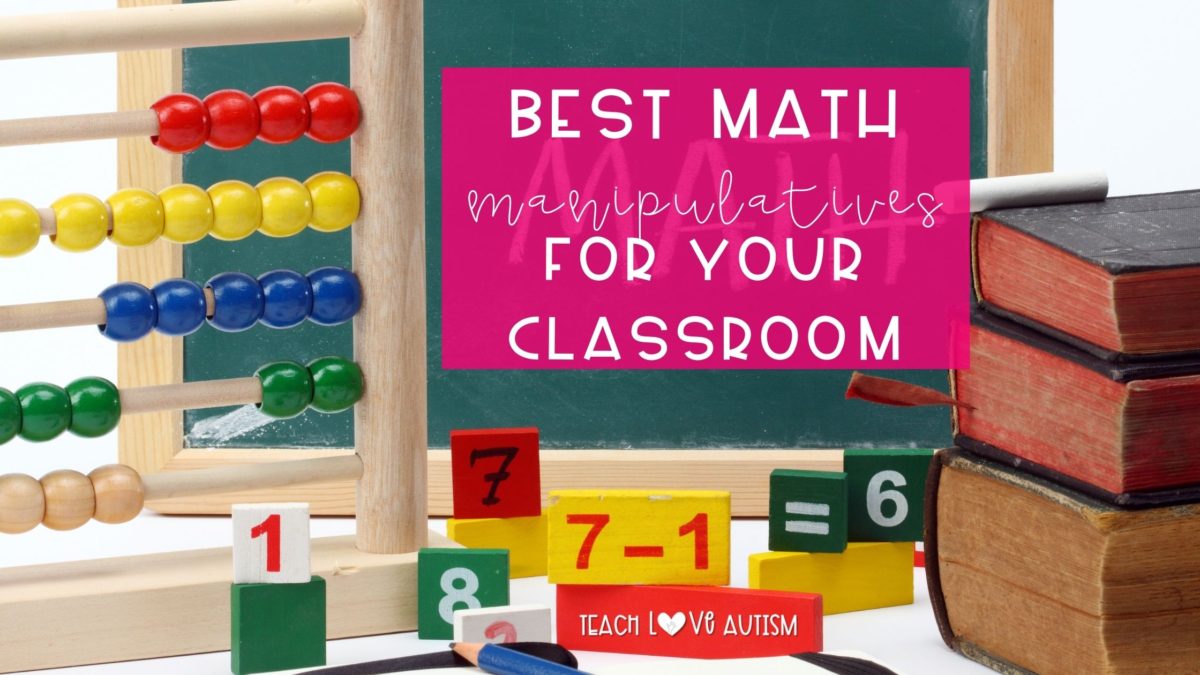 Could you use more math manipulatives for your classroom? Do you have a passion for doing tangible learning tasks with your students? Have students that thrive when they can manipulate objects? Do you have students who would benefit from doing "hands-on" math, instead of endless worksheets? Be sure to read all the way to the end for the FREEBIE I use with some of the manipulatives in this blog!
Some people might think that using math manipulatives is only for primary students, but math manipulatives are awesome for any age. I use them all the time in my special education classroom. I find that my students are able to grasp math concepts more easily when they can manipulate objects and physically see math concepts being acted out. For example, it's easier to understand subtraction when something is physically taken away.
This is where math manipulatives come in. They are so handy! And I've put together a list of some awesome math manipulatives that you can purchase on Amazon. This blog is highlighting some of the must-haves I've always used in my classroom, and if you head to my Amazon list (where I make a small commission if you chose to buy from) you can see way more than just what's in this blog!
Not only are these teddy bears cute and fun to play with, but they are great to teach counting and sorting. The teddies come in three different sizes and four colors. There are so many things you could do with these. Counting, subtraction, addition, sorting, etc. And if the bears aren't your thing, there are a ton of other shapes you could pick from too!
Bingo chips are a great counting resource. There are 250 pieces in this set. The pieces are transparent as well. I've often used transparent bingo chips as markers in math. I'll print out a page with a bunch of numbers on it. Then I'll ask the students to put a red bingo chip over a specific number. This is great practice with colors and number recognition. And of course, I've also used bingo chips to play bingo.
I love foam dice because they don't make the loud plinking noise that plastic dice make. Foam dice are so quiet. This is awesome for teacher sanity, but it's also helpful for students who get overstimulated or triggered by loud sounds.
Math Manipulatives for Your Classroom to Build With
There are a variety of cubes that come in handy. These ones snap together which is great for counting and grouping. They also have shapes etched into the sides, which could be useful for teaching shapes.
Unifix cubes are another cube that I love. These cubes are made with bright colors and also snap together. But these cubes do not have shapes etched into the sides like the previous cubes. It really just depends on what you prefer.
Place Value and Counting Math Manipulatives for Your Classroom
Ten frames are a great way to teach counting. They are also a great way to teach subtraction, addition and ways to make ten. This product is magnetic, so you can stick it to your magnetic whiteboard. The students can take turns coming up to the board and manipulating the ten frame pieces.
I know that some people absolutely love Base Ten, especially when it comes time to teach place value. Here is a link to the Starter Kit.
These tangram pieces can be used to teach counting, shapes, patterns, etc. These might be a fun manipulative to add to your classroom for some variety.
Math Manipulatives for Your Classroom for Patterns
My students LOVE these chains. They are always asking to play with them during Choice Time. They love to make patterns and count. Their favorite game is linking the chains together and then measuring an object in the classroom. One time they got me to lay down and they measured how many chains tall I was. I love when math manipulatives get used during Choice Time!
These are two-color counters. One side is red and the other side is yellow. These work great on ten frames, as bingo chips, as counters, etc. I like that they are two colors because students can visually see math problems. For example, if they have the question "8+2", they can have 8 red chips and 2 yellow chips. Then they count the chips altogether.
A Fun Manipulative You Have to Try!
Have you tried using these yet! They are all the rage right now and the kids are loving them! I can think of so many math games that can be played with them and the students love the sensory and fidget aspect of them as well!
Do you have any must-have math manipulatives? I'm always on the lookout for good ones to add to my collection.
Here's a quick freebie that I love to use in my classroom with some of the manipulatives mentioned above!