It's hard to know what the autism classroom setup must have are but, I've got you! It is super overwhelming trying to determine what the necessary components are of a great autism classroom. Never fear, I'm a seasoned pro at setting up an autism classroom! I can help cut through the noise and share my top 5 MUSTS for your autism classroom.
Visuals for Everyone!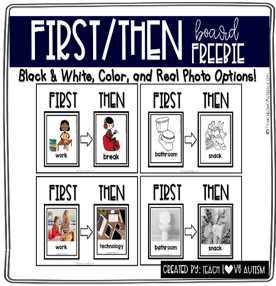 Grab this for FREE in my free resource library!
Research tells us visuals help students and I can attest to that! Things they help with include transition between activities, building independence, and help eliminate anxiety. Who wouldn't want that?!
In all honesty, we all use schedules, whether they're calendars in our phones or to-do lists! I give each student an individual schedule, as well as posting a whole group visual schedule. This helps keep everyone on track and transitioning through the day smoothly. You can check out the visual schedules that I use with my students in my TPT store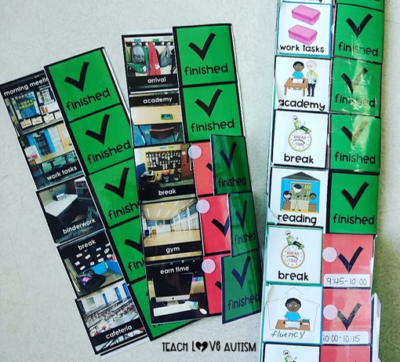 Independent Work in an Autism Classroom
Having a system of tasks can be a really organized and simple way for students to move through activities. Additionally, we can also make sure they are aligned to their independence level. I have blog posts where you can read more about this here.
This can be done within many contexts: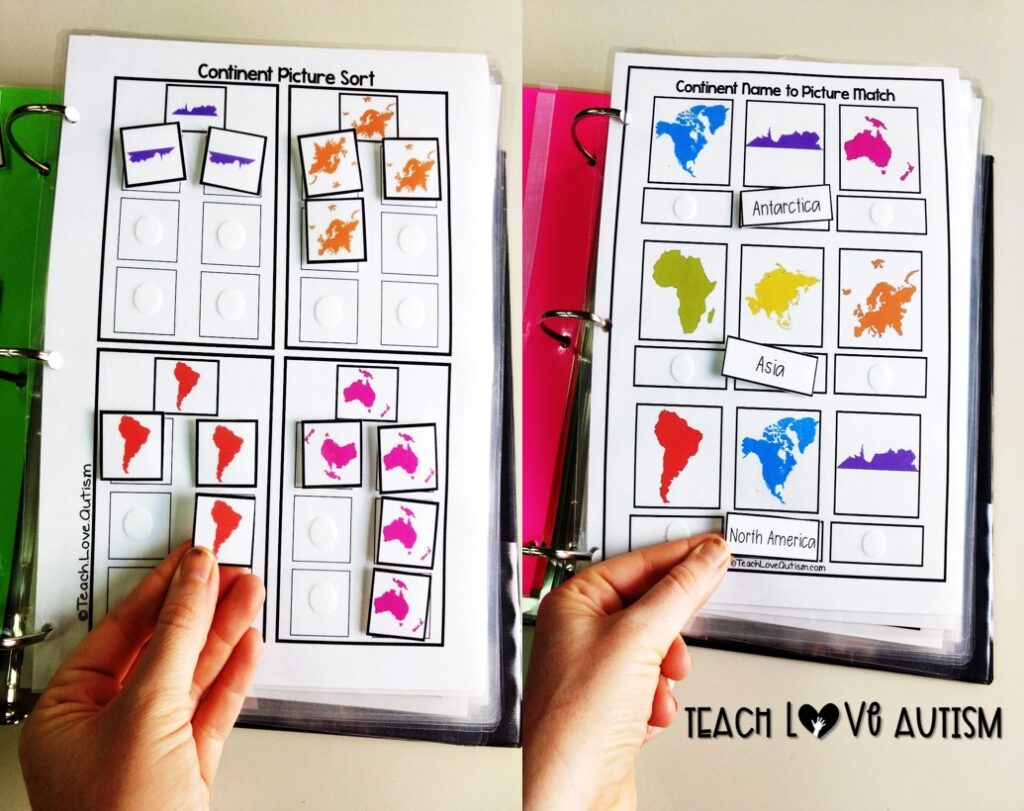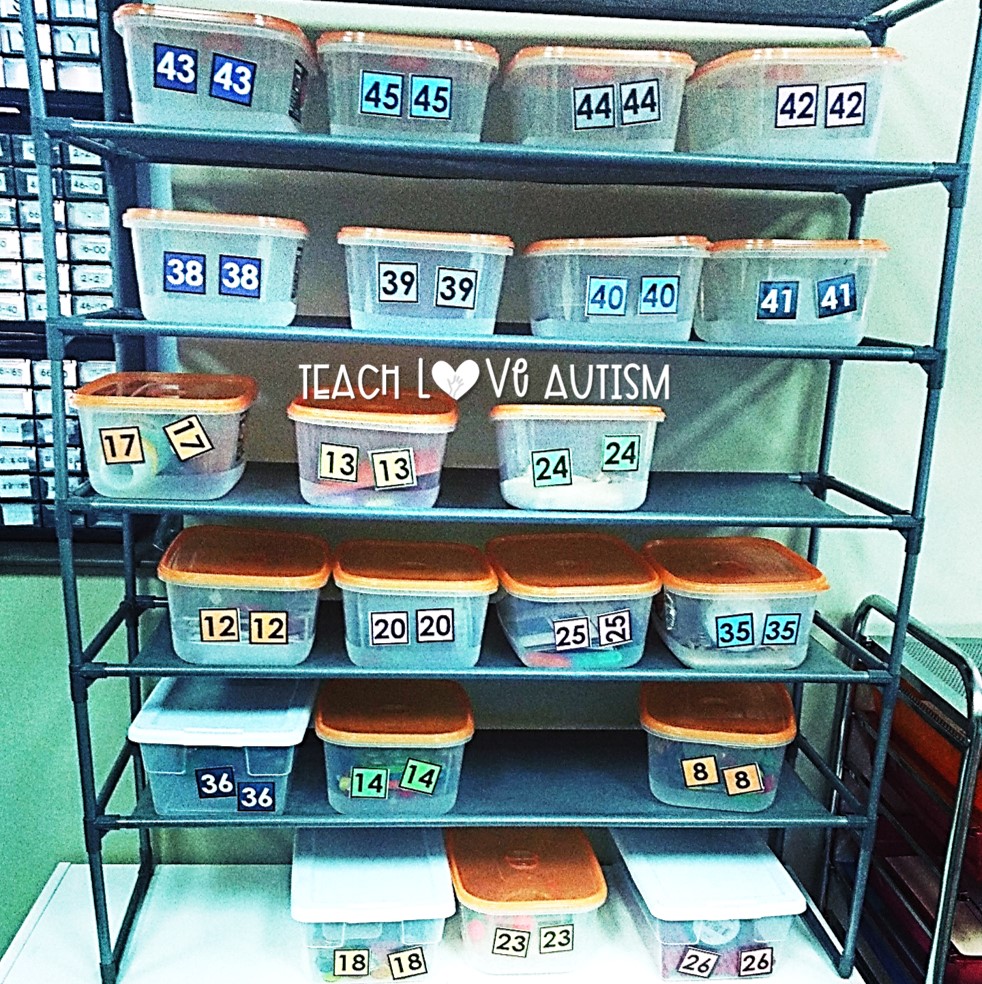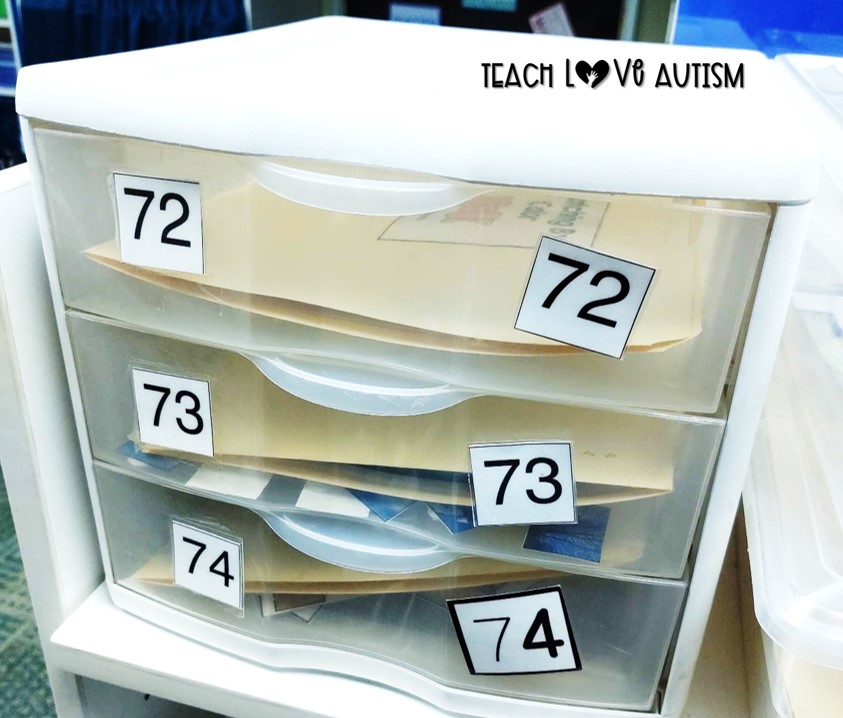 Work task systems allow you to use a combination of all of these within one classroom. I suggest you determine which system would be best for each student in your classroom. You'll find that different students respond better to different work systems! I love using these labels in my classroom to set up my work task system too. I have found them to be the perfect visual support for my students.
Behavioral Supports
It is challenging to create behavior plans for students without knowing them yet. You can have behavioral supports and visuals prepped and set up for your students though. Some examples of classroom wide behavior supports are… "I'm working for" visual boards.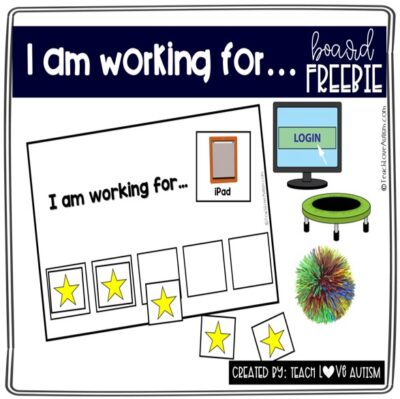 Use these with students as they engage in a non-preferred activity or work. First, I choose a behavior I want the child to display (ex: stay seated), and when they do that behavior they earn a token! Once the board is filled, students can engage with their preferred and chosen reinforcer.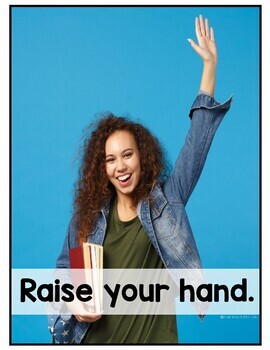 I always pair visuals with the behaviors I expect students to show. It is a great way to ensure they're comprehending your directions. You can also take photos of students engaging in expected behaviors and use those to make stronger connections!

Lastly, using a visual first/then board can support concrete thinkers with a visual to show what they must do first before they can earn reinforcement. It is helpful to redirect students back to the activity with a clear visual.
Tangible Reinforcers in an Autism Classroom
Our students greatly respond to having items to work for and motivate them. Moreover, it's tricky to have reinforcers that are actually reinforcing for our students when we don't know them. I still like to have some options ready to go!
Additionally, I recommend having a variety of toys and tools that engage a variety of our senses. A few examples are wands that blink, a toy that plays music when you push buttons, slinkies, sensory bottles, maracas, and soft pillows. As you get to know students at the beginning of the year, you can begin to gather reinforcers that match their preferred items! Check out these in my Amazon store!
Data Collection System in an Autism Classroom

Have you ever heard the quote "without data, you're just another person with an opinion"? Data collection is everything! This is how you can inform your instruction, determine progress, write IEP goals, and more. In order to do so, you need a system that makes sense to YOU and your paraprofessional team.
You might want to use data binders that are at each different station in your classroom. I like to use divider tabs and have one for each student. You could also have a binder or clipboard for each student or use an iPad and Google Forms.
In conclusion, make sure you have the system you hope to use ready to go on day one so you can be ready to take data as you need. I love the book Taming the Data Monster by Dr. Christine Reeve to help guide you in creating a streamlined and effective data collection system for your classroom.
Putting in the time now to have these items ready to go will absolutely set you up for a smooth beginning of the school year. Don't worry there will be a part 2 to this blog because if I'm being honest, five items is just not enough!
Comment below what your questions, comments, and favorite tips are!