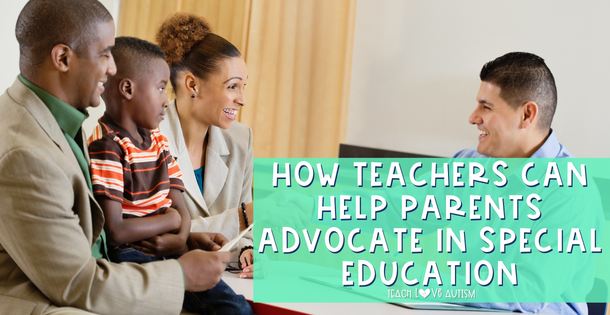 Something that's becoming more evident is advocacy in special education. More and more parents want to be advocates for their child's needs in education. The stress on the families to advocate for their children can be overwhelming.
It's hard for families to understand all the information and phrases used. Remember, they don't have a degree in education. Let's talk more about making informed decisions when advocating for a child with a disability. These are things that teachers, administrators, and providers can do to support families and work together as a team. Ultimately, we must remember that we all want the same thing, for the child to succeed.
First Steps in Advocacy in Special Education
First, let's talk about advocacy. Advocacy is when someone takes action to create change. The advocate will tackle an issue for the betterment of the child. They consider the needs of the child to drive the decision-making in a meeting or on an educational document.
Next, let's talk about communication. Hopefully, it's set up before any meetings through the use of communication logs or regular phone calls and emails. Make this the first thing you set up with the family at the beginning of the school year. Just ask the family what means of communication and time of day works best. You can read more about building rapport with families in this blog post.
Before you meet with the family, make sure you send the draft of the document prior to the meeting. This will ease tension and nerves. It helps all parties feel more prepared for what will be discussed in the meeting. Lastly, make contact with the family a day or two prior to the meeting to see if they have questions after reviewing the documents. This gives the school a chance to find answers more easily. Then everyone can leave the meeting more confident that things are resolved. One of the worst things is when you leave a meeting with more questions than answers.
Lingo for Advocacy in Special Education
There are many words and acronyms in the field of special education that it is very overwhelming to someone new. In meetings parents' heads are spinning when the professionals at the table start using acronyms. In meetings, common acronyms are "LRE, BIP, & AAC". Which, "LRE" stands for "least restrictive environment", "BIP" stands for "behavior intervention plan" and "AAC" stands for "Alternative Augmentative Communication".
While in meetings ask frequently if parents understand or need further clarification. Another suggestion is to use the acronym but immediately following that acronym state what it means. I do this especially if they are new ones I think the parent may not have heard before.
I keep a "cheat sheet" at the table of acronyms and terms for any team member to reference during the meeting. Here's the sheet I use and you can get it free!
Advocacy by Knowing Rights
Moreover, families do not feel comfortable knowing what they can do or ask in a meeting for a child with disabilities. This is an opportunity to sometimes ask questions for the parents. These questions might include things like:
Can you explain what that IEP goal might look like in the classroom?
Where and when will you be providing that service?
What areas does that assessment focus on?
Why is that IEP goal-relevant for the student?
What is the timeline for the completion of that assessment or evaluation?
What are the next steps from here? Discuss timelines.
Knowing the Processes and Procedures
Every school and district is different in the way that they do things in special education. In different states, there are different laws and policies that should dictate the way schools work with students and families in providing education.
As the teacher and IEP case manager, it is your job to support families in understanding the timelines and procedures for different parts of the process. Things like how an evaluation for a new service might take place. Additionally, the timeline for getting documents prepared, signed, and put in action. This needs to be communicated with families. It helps them understand their rights and when to ask if something isn't going to plan.
In conclusion, these few things can be done to help families advocate for their children with disabilities in school. It can be very stressful for parents to learn about what their child needs and how to get it. As a professional, it is your job to make sure that the family and child feel comfortable with the information and the processes.